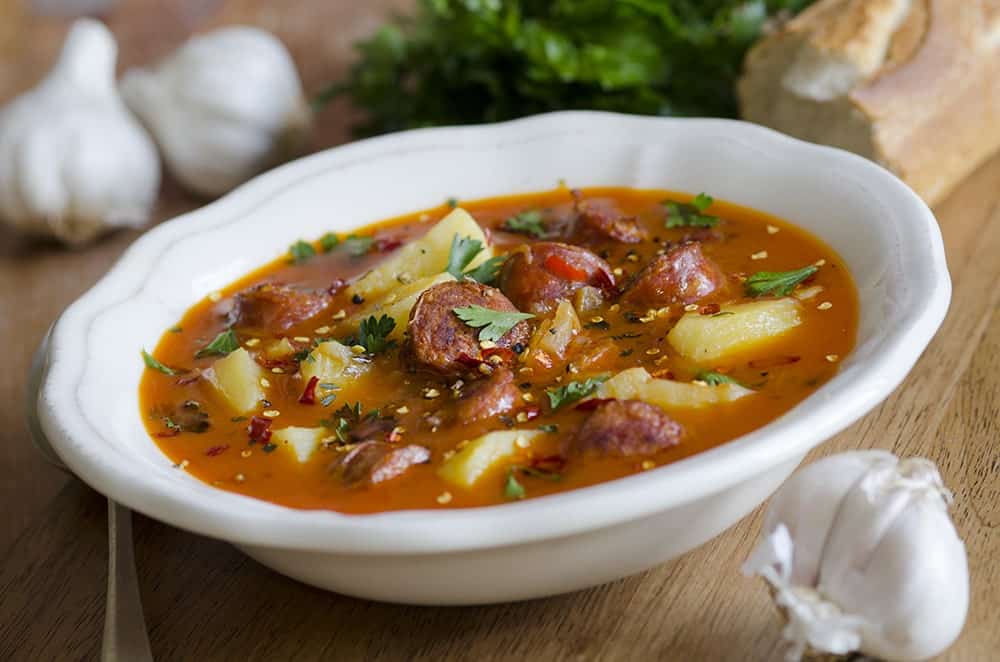 Ingredients
1 tsp oil
2 chorizos, diced
1 red onion, diced
1 tsp smoked paprika
2 Tbsp tomato paste
500g (or 6 small) potatoes, roughly chopped
1 capsicum, diced
125g corn kernels
1 tomato, diced
1 zucchini, diced
1L chicken stock
1 Cup water
Crusty bread to serve
Method
Heat oil in large saucepan.
Add chorizo and onion, cook until brown.
Add paprika and tomato paste and stir in until combined.
Add potato, capsicum, corn, tomato and stock. Stir to combine.
Cover and bring to the boil.
Remove cover and boil for additional 15-20 minutes or until potato is tender.
Serve with crusty bread if desired.
Good things to note:
Soups can be a good way to increase vegetable intake to keep bowels happy and healthy.
When choosing vegetables to add think about including different colours to increase intake of vitamin and minerals. For this recipe eggplants, and carrots make great additions to boost veg and colour.
If you struggle with high blood pressure you can look for salt reduced chicken stock or use grilled chicken instead of chorizo to manage sodium intake.
For people with diabetes choosing low GI products will help better control blood sugar levels. Items like wholegrain breads or carisma potatoes are lower GI products that won't change the flavour or texture of the dish.
Soups can take a long time to cook and may not fit into your busy schedule. Buying prechopped, frozen or canned veggies or chopping veggies in the morning may reduce prep-time later in the evening. Alternatively planning to make meals on weekends where you have more time ensures you don't miss out on this delicious recipe.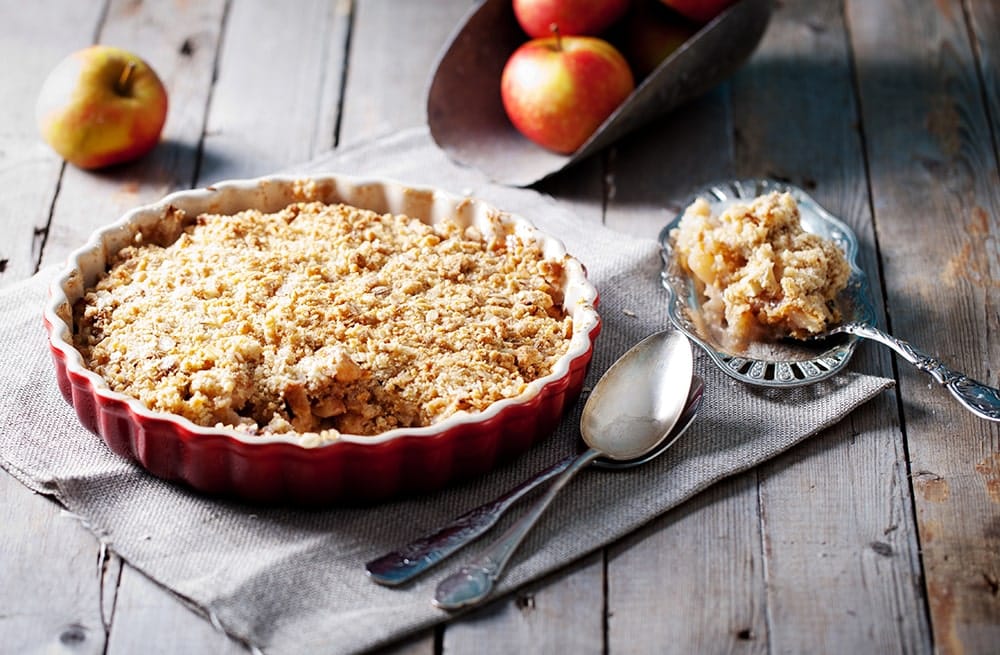 With winter approaching fresh apples will soon be out of season but with the advancements in food technology canned apple makes for a lovely substitute. Crumbles though are an excellent way to use up fruit that has been lying around in the back of the fridge or an overabundance of fruit from the autumn market haul or harvest. They are also a fun and interesting way to help increase fruit intake and can be easier on gums and teeth for people with dental issues. Enjoy this winter warmer, happy cooking!
Ingredients
1 cup plain flour
½ cup brown sugar
½ cup rolled oats
100g chilled butter, chopped.
½ cup chopped walnuts
800g can pie apple or 5-6 large apples stewed.
Cream to serve
Method
Preheat oven to 180°C.
Combine flour, sugar and oats in a bowl.
 Add butter and use fingertips to rub butter into the flour mixture until it looks like breadcrumbs.
 Add and stir in walnuts.
 In an overproof dish spread out apple.
 Top with flour dry mixture.
 Place in oven and bake for 20-25 minutes until golden on top.
 Serve with cream.
Good things to note:
For nut allergies replace walnuts with sultanas or currants.
To make it gluten free use gluten free flour and swap oats for gluten free Weetabix.
Apple is not the only fruit that can be used. Pear, rhubarb, apricot, plums, berries and peaches make excellent substitutes to help make the recipe an all year round. Using a variety of fruit also increases access to different vitamin and minerals.
Cream not your thing? Ice cream, custard or yoghurt make good substitutes as well.
Roast beef with rainbow veg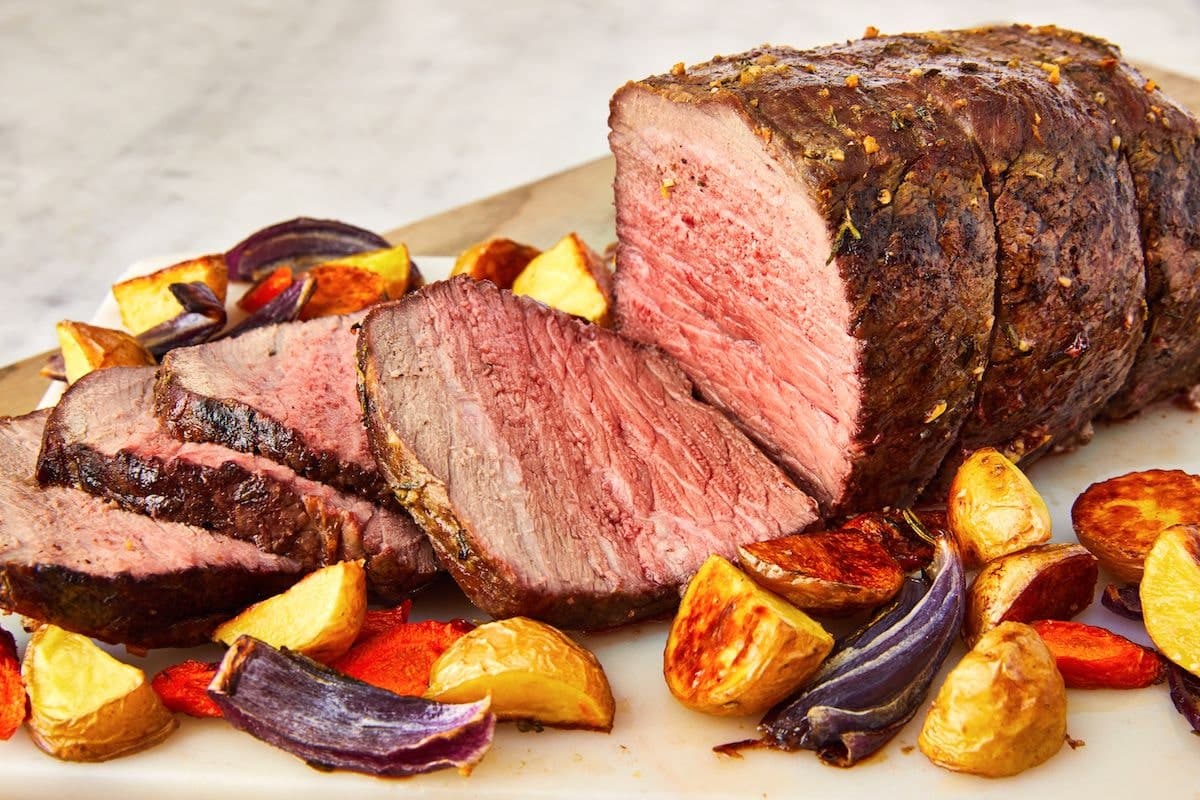 Winter = Roast. Just like soups roasts are definitely a seasonal food and don't need to be reserved for special occasions. Roasts may seem like just meat and 3 veg but there is nothing wrong with that as these types of meals provide us with a minimum of 3 of the 5 major food groups, meat, grains and veg. Meat provides us with protein to maintain muscles and promote growth. Grains provide us with carbohydrate to give us energy to participate in the things we enjoy as well as fibre for good bowel health. Vegetables provide us with a range of vitamins and minerals that help with everything from eye health to immune system protection, the more colours the more variety in vitamins and minerals to help boost overall health. So don't overlook the meat and three veg because it may provide you with more than you think, happy cooking!
Ingredients
1.3kg of roast beef topside
1kg of white baby potatoes, cut into quarters
16 carrots, cut in half
1 large purple onion, cut into eights
4 Tbsp olive oil
1 Tbsp garlic
1 Tbsp Italian herbs
200g Green beans, ends trimmed
2 Cups frozen corn
Method
<
Preheat oven to 250°C.
Line roasting pan with baking paper.
Place beef in oven proof dish.
Combine 2 Tbsp oil, herbs and garlic in jug.
Pour over beef.
In separate tray place potatoes, carrot and onion and cover with 2 Tbsp of oil
Reduce oven to 200°C and add tray.
Cook for 1 hour or until cooked to your liking.
10mins before beef is finished, bring a pot of water to the boil.
Once boiled, place beans and corn in steamer on top of pot.
Steam for 5 mins.
Serve with sauce or gravy as desired.
Good things to note:
Beetroot can be roasted in place of onions if preferred. Likewise, carrots can be steamed instead of roasted.
Frozen corn is cheaper during the winter than having corn on the cob as it is not currently in season.
Using spices and herbs is an alternative to salt for those with heart conditions such as hypertension or a history of strokes.
For those with Diabetes, using sweet potato or pumpkin in place of white potato provides a lower carb and glycaemic index option meaning sugars are less likely to be affected. Alternatively using Carisma low GI potatoes will also have the same effect.
If choosing to have gravy, making gravy from scratch reduces salt intake which can help manage hypertension and other heart health conditions. When making gravy from scratch you can choose to not add salt, use salt reduced stock or stock cubes and use unsaturated fats like margarine or nutlex.
Using margarine or nutlex is supportive of good heart health as they are unsaturated fats and will not contribute to increasing cholesterol.
Basic eggs on toast with a twist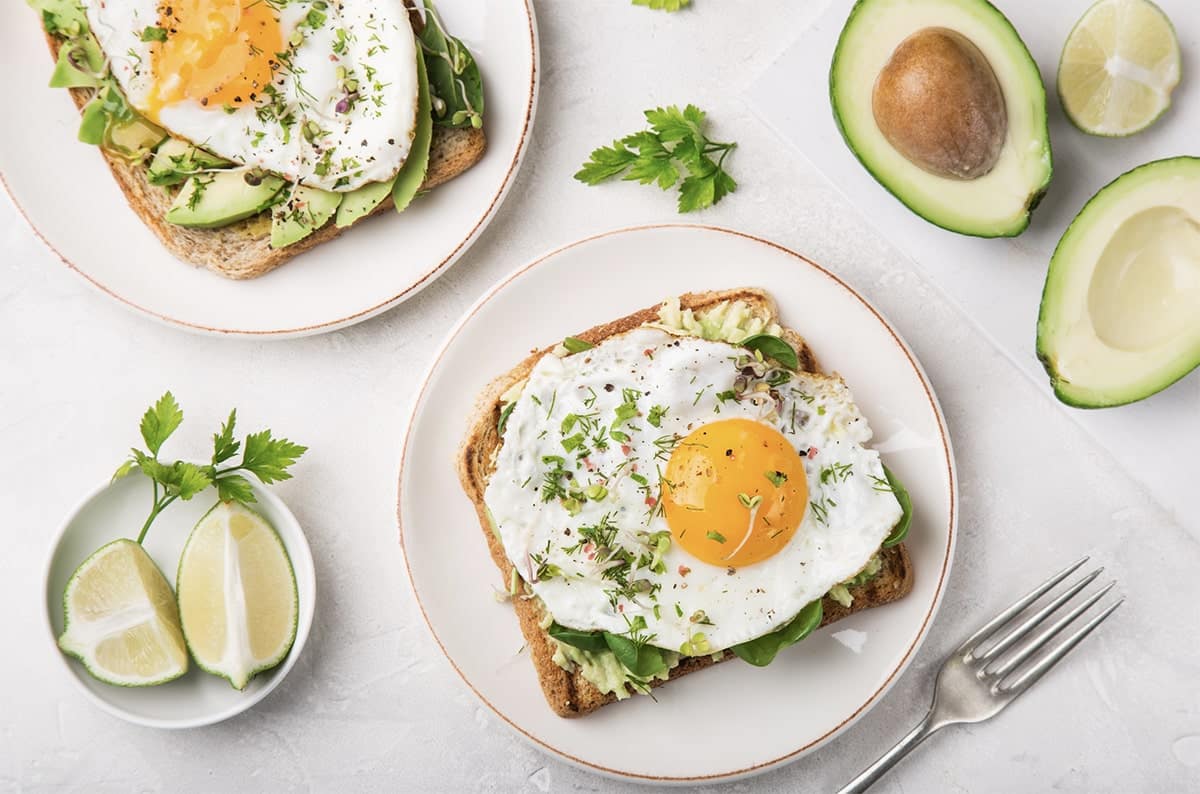 Eggs on toast is one of the easiest ways to include a variety of food groups in one meal, it also is simple to cook and doesn't need to be reserved as a breakfast food, eggs on toast makes a great dinner.
Ingredients
120g spinach
1 slice of cheese
1 egg
1 slice wholegrain bread
½ avocado, sliced
1 Tbsp lemon or lime juice
Method
Cook bread in toaster to liking.
Place slice of cheese on top
In small frying pan sauté spinach with 1 Tbsp of water.
Once wilted place on top of cheese.
Top cheese with avocado.
In same frying pan spray with oil and add egg.
Cook egg to liking.
Add egg to toast.
Drizzle juice of choice over the top and serve.
Good things to note:
For those with polycystic ovary syndrome (PCOS) this recipe includes all the nutrients to help best support regular cycles. If you wanted to increase your Omega-3 for this recipe adding some smoked salmon is a delicious addition.
I haven't used butter or margarine on my toast in this recipe and that is because its down to personal preference. There is nothing wrong adding butter or margarine before putting cheese on if that's how you would normally have your toast. For those with high cholesterol using margarine or nuttlex will help in keeping it lowered.
Wholegrain bread has many benefits but mainly its fibre content is what it is most notable for. Fibre is protective for our bowel health preventing conditions such as bowl cancer. It also keeps our gut bacteria happy which can influence our hormones need for those with PCOS. Fibre also keeps you fuller for longer meaning you might notice yourself snacking less after having foods high in fibre.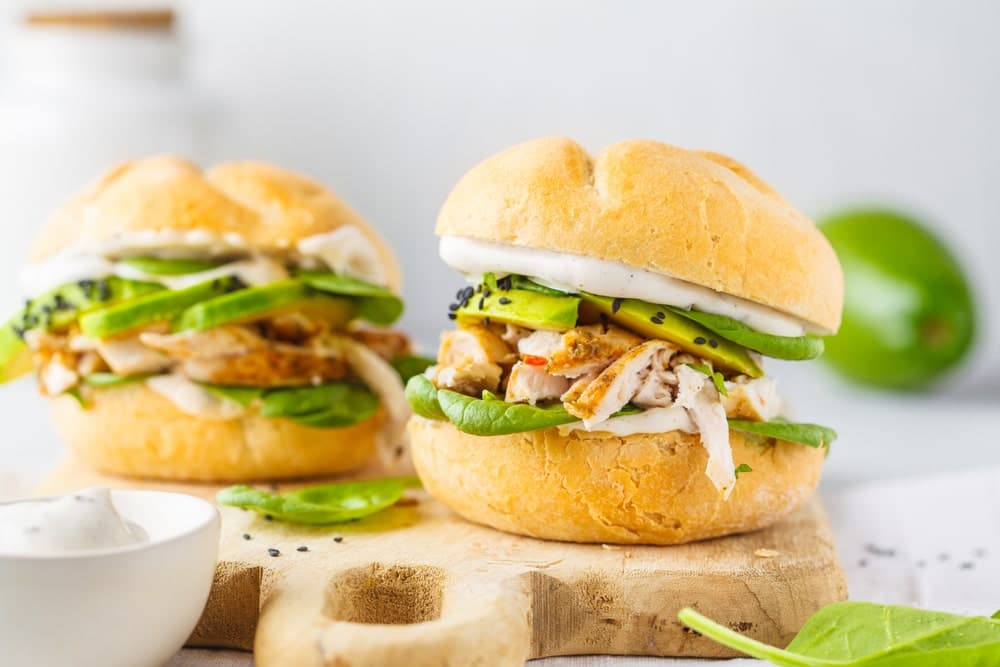 Welcome to spring and summer time foods! Try this taste burger to start your spring off right.
Ingredients
500g Chicken mince
1 egg
1 onion, finely diced
½ cup bread crumbs
1 teaspoon of crushed garlic or 2 cloves
¼ cup parsley or coriander, chopped
1 tsp chicken stock powder
¼ cup BBQ or tomato sauce
TO SERVE: bread roll, lettuce or spinach, tomato, cucumber, avocado, cheese, and your choice of sauce
Method
In a large bowl combine mince and egg.
Add onion, bread crumbs, garlic, herbs, chicken sock and sauce.
Combine using hands.
Shape into 6 patties.
Spray frying pan with oil and heat.
Place patties in frying pan and cooking for 4-5 minutes.
After 5 minutes turn over burgers and cook until white all the way through.
Once cooked serve on a bread roll with choice of toppings.
Good things to note:
Burgers are a good way to incorporate a range of different coloured veg or fruit. Other toppings include cabbage, beetroot, onion, pineapple, carrot, capsicum, mushroom, pumpkin, pickles and eggplant. If you don't want to add them on top grated carrot, pumpkin, and zucchini can be added to the patty, so can diced capsicum and mushrooms.
Sauce is not the enemy. If you have ever been on a diet, you would know that they forbid any kind of sauces or condiments because it adds "empty calories" but no one ever gained weight over having too much sauce or dressing. So, choose as many different sauces as you like to help make your burger tasty. I like mayonnaise on mine but a chutney or relish goes pretty good as well.
For those with diabetes choosing a browner roll with seeds will have a lower GI than a white roll. Lower GI foods help to stop big spikes in blood sugars giving better control of them overall. This being said Baker's Delight and Coles do now have high fibre low GI rolls which are white rolls so if you are not keen on brown rolls with seeds looking for these is another option for you.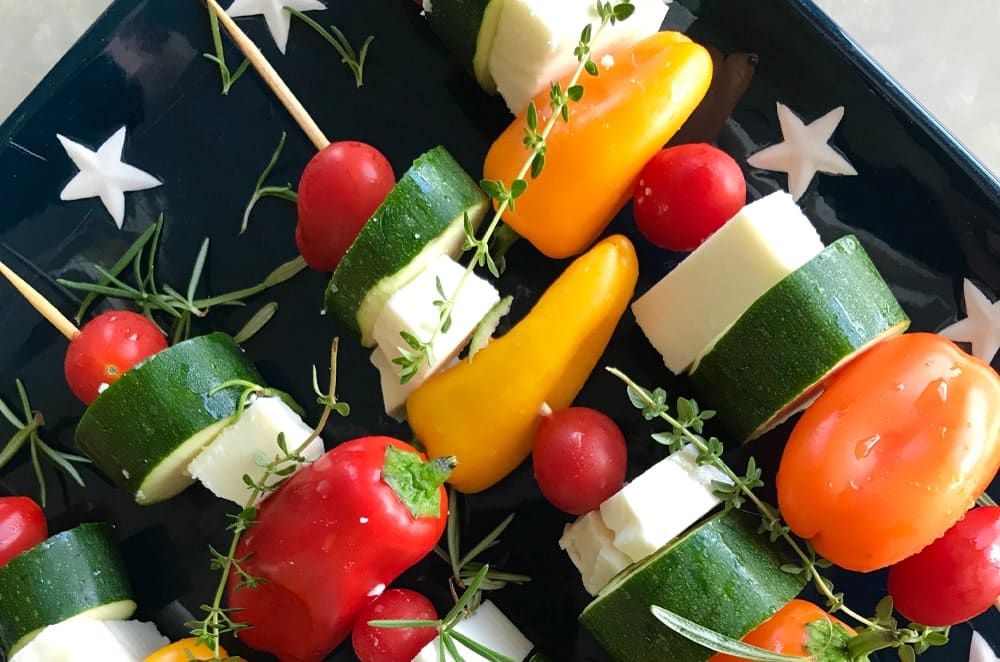 Time to dust off those BBQ's and get the grill going because the days are getting longer and warmer. Nothing speaks spring or summer more than a good old BBQ and here is something quick you can prepare that will keep all guests happy.
Ingredients
1 x red capsicum
250g cherry tomatoes
½ butternut pumpkin
250g Haloumi
1 zucchini
2 x purple onions
1 x eggplant
Skewers
Method
Place skewers in large bowl of water to remove splinters.
Preheat oven to 200°
Cut all ingredients into large cubes.
Place pumpkin on tray.
Spray with olive oil.
Cook pumpkin in oven for 15mins until just soft.
Thread ingredients on the skewers in a rainbow pattern.
Prepare stove or BBQ.
Cook for 5-10 minutes or until veggies are cooked to your liking.
Serve with fresh spring salad.
Good tips:
To make them non-vegetarian use lean beef instead of haloumi. Lean cuts of meat have less fat which is good for people suffering from cardiovascular disease such as high cholesterol. High fat foods can cause the bad cholesterol to increase which damages arteries and leads to blockages that disrupt blood and oxygen flow around the body.
Get creative with colours! The more colours a meal has the more important micronutrients you will be including so instead of having zucchini try green capsicum or asparagus, yellow try yellow capsicum or squash, and for orange try roasted carrots or sweet potato.
These don't have to be vegetable rainbow kebabs, no, no ,no if you already have the BBQ sorted why don't you make rainbow fruit skewers for dessert using fruits such as strawberries or apple, rockmelon or oranges, banana or star fruit, kiwifruit or honeydew melon, blueberries and blackberries to name a few.