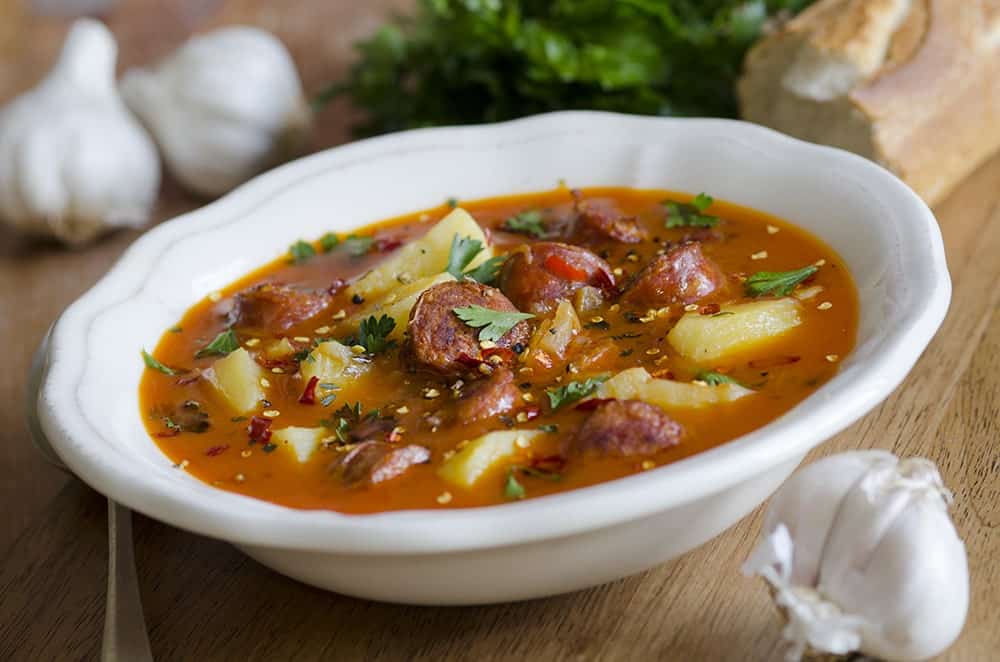 Ingredients
1 tsp oil
2 chorizos, diced
1 red onion, diced
1 tsp smoked paprika
2 Tbsp tomato paste
500g (or 6 small) potatoes, roughly chopped
1 capsicum, diced
125g corn kernels
1 tomato, diced
1 zucchini, diced
1L chicken stock
1 Cup water
Crusty bread to serve
Method
Heat oil in large saucepan.
Add chorizo and onion, cook until brown.
Add paprika and tomato paste and stir in until combined.
Add potato, capsicum, corn, tomato and stock. Stir to combine.
Cover and bring to the boil.
Remove cover and boil for additional 15-20 minutes or until potato is tender.
Serve with crusty bread if desired.
Good things to note:
Soups can be a good way to increase vegetable intake to keep bowels happy and healthy.
When choosing vegetables to add think about including different colours to increase intake of vitamin and minerals. For this recipe eggplants, and carrots make great additions to boost veg and colour.
If you struggle with high blood pressure you can look for salt reduced chicken stock or use grilled chicken instead of chorizo to manage sodium intake.
For people with diabetes choosing low GI products will help better control blood sugar levels. Items like wholegrain breads or carisma potatoes are lower GI products that won't change the flavour or texture of the dish.
Soups can take a long time to cook and may not fit into your busy schedule. Buying prechopped, frozen or canned veggies or chopping veggies in the morning may reduce prep-time later in the evening. Alternatively planning to make meals on weekends where you have more time ensures you don't miss out on this delicious recipe.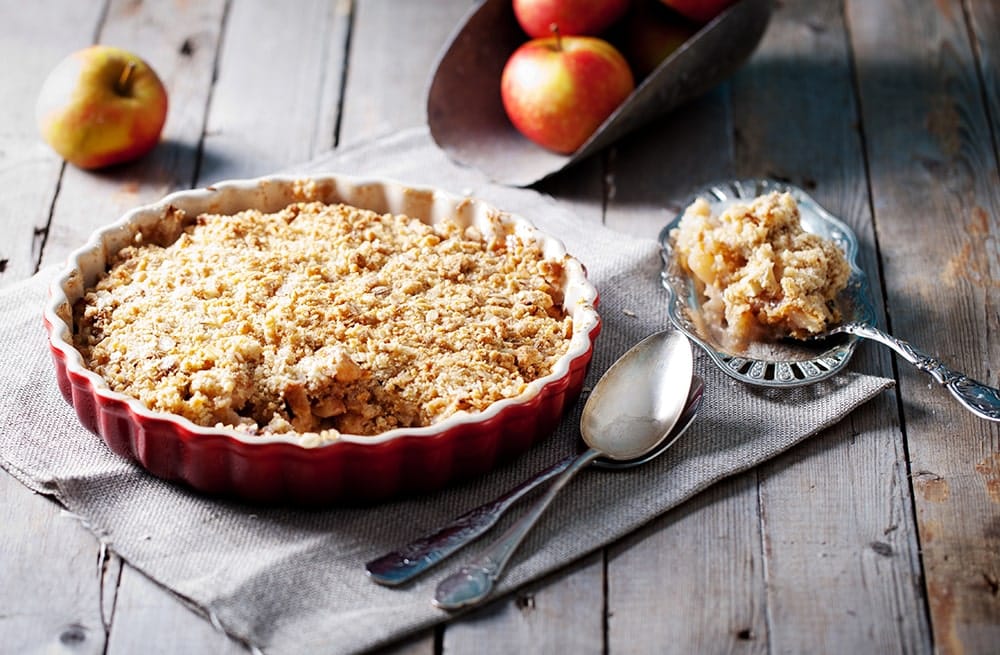 With winter approaching fresh apples will soon be out of season but with the advancements in food technology canned apple makes for a lovely substitute. Crumbles though are an excellent way to use up fruit that has been lying around in the back of the fridge or an overabundance of fruit from the autumn market haul or harvest. They are also a fun and interesting way to help increase fruit intake and can be easier on gums and teeth for people with dental issues. Enjoy this winter warmer, happy cooking!
Ingredients
1 cup plain flour
½ cup brown sugar
½ cup rolled oats
100g chilled butter, chopped.
½ cup chopped walnuts
800g can pie apple or 5-6 large apples stewed.
Cream to serve
Method
Preheat oven to 180°C.
Combine flour, sugar and oats in a bowl.
 Add butter and use fingertips to rub butter into the flour mixture until it looks like breadcrumbs.
 Add and stir in walnuts.
 In an overproof dish spread out apple.
 Top with flour dry mixture.
 Place in oven and bake for 20-25 minutes until golden on top.
 Serve with cream.
Good things to note:
For nut allergies replace walnuts with sultanas or currants.
To make it gluten free use gluten free flour and swap oats for gluten free Weetabix.
Apple is not the only fruit that can be used. Pear, rhubarb, apricot, plums, berries and peaches make excellent substitutes to help make the recipe an all year round. Using a variety of fruit also increases access to different vitamin and minerals.
Cream not your thing? Ice cream, custard or yoghurt make good substitutes as well.