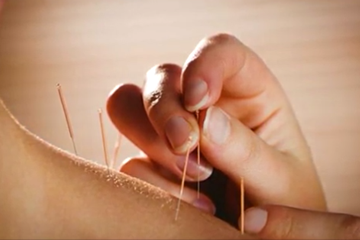 What Exactly Is Dry Needling?
Often confused with acupuncture, dry needling or intramuscular manual therapy is a technique which is largely used in Western medicine. A licensed therapist inserts a number of "dry" needles in the skin, targeting a specific regions in the muscle and trigger points. The filament needle is a fine, thin one, and the process is called "dry" because it does not include additional medication or injections. Trigger points are specific taut bands of muscles, found deep into a larger muscular area. Once this trigger point is targeted and stimulated correctly it can help relieve and release the pain and discomfort.
What's The Difference Between Acupuncture & Dry Needling?
The biggest difference between dry needling and acupuncture is the fact that the first is used in Western medicine and performed by licensed physicians, while the latter is mostly related to Eastern philosophy and medicine and performed by acupuncturists. At My Physio My Health, we make sure that all appropriate conditions are met so that your therapy is effective and risk-free.
What Can Dry Needling Help Me With?
Dry needling is mainly used to alleviate body pains and musculoskeletal conditions, greatly helping with mobility and muscle restoration. It can also aid with stressed muscles, soreness, neck pain, arthritis, back pain, and also headaches and similar irritations. Most physiotherapists combine it with one-one-one sessions or group excercise programs.
Are There Any Side Effects of Dry Needling?
Due to the fact that the needles stimulate trigger points, there is a slight chance that you may experience a bit of muscle ache during the session. Depending on the sensitivity of the patient's skin mild redness and bruising around the insertion area have also been mentioned. These occurrences aren't permanent and are not dangerous to your overall health.
However, similar to any medical procedure, all safety precautions and sanitary measures must be taken, e.g. sterile needles are to be used for each and every therapy session, which is exactly what we do at My Physio My Health, since your health is our primary goal.
For more information about our dry needling treatment please contact us or book an appointment online at Holden Hill, Lightsview, Woodville, Kilkenny, Prospect or Torrensville.
My Physio My Health
Trust our team of physiotherapists to help you recover faster and improve your quality of life.