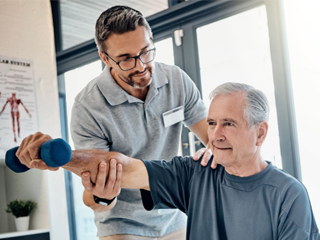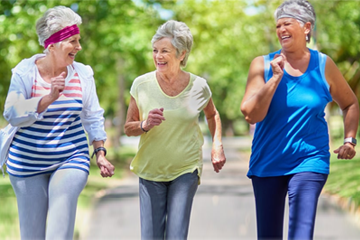 Aged Care Physio Services
We, at My Physio My Health have a dedicated team of qualified Physiotherapists trained to provide services in aged care facilities and residential homes around Adelaide. Additionally, these services can be availed at our practice and also at the comfort of your own home-as 'home visits'.
My Physio My Health provides a range of services specifically designed for seniors in the community. The 'aged' population being a major proportion of South Australian community, must receive highest standards of health care. It has become more important than ever to consider how can we provide a healthy and happy living to our loved ones in the later years of their life.
Physiotherapy plays a significant role to enhance health status of the aged. Our team of Physiotherapists strive to work towards a common motto of 'adding life to years'. Physiotherapy helps seniors to manage chronic pain, post-operative rehabilitation, prevention of falls and a better respiratory health.
Helping the Elderly
Aged Care facilities & Nursing Homes
Retirement housing/villages
Seniors walk-in for consultation and treatment at our practice
Elderly referred by GP through annual Care Plan under Medicare
Individual clients at the comfort of their own home
Our Aged Care Services
Comprehensive in-clinic physiotherapy at Woodville, Holden Hill, Lightsview, Kilkenny, Prospect or Torrensville
Education and Counselling
Quality treatment for Musculoskeletal, Neurological and Cardiorespiratory conditions
Chronic Pain Management with effective hands-on treatment-ACFI 12
Physical environment Assessment and modifications for elderly
Prescriptions for suitable Mobility Aids-crutches, walkers, wheelchairs.
Education and training of staff including Manual Handling and pressure area management
Condition-specific Individual Exercise Programs
Conditions
With old age and conditions like Dementia and Parkinson's Disease, the physical and mental health of the individuals deteriorate. Due to lack of information and misconceptions, many elderly people with such neurological deficits do not participate in physical activity or structured exercise programs. In such scenarios, physiotherapists evaluates the functional strengths and weaknesses of individuals, and provide them a supervised exercise plan to boost their activity and independence levels.
Evidence suggests that people over-60s must undertake muscle-strengthening exercise twice a week, in addition to the Department of Health's recommendation of 30 minutes of moderate physical activity 5-7 days a week. Strength training and balance is a key activity for the elderly. As we age, we get general muscle weakness and strength deterioration that continues to get worse. So, it is very important to indulge in strength training programs to be able to function independently in the community. This is directly linked with activities of daily living (ADLs) such as looking after yourself, grooming, eating, cleaning and moving around the house.
Physiotherapists educate elderly and their families about their conditions and its possible outcomes. They can help assess the physical environment of the individual to ensure optimum safety and minimise risk of falls. This can potentially reduce the incidence of hospitalisations due to falls injury and improve quality of living.
Similarly, many musculoskeletal disorders such as Osteoarthritis and Spondylosis are progressive with increasing age. These conditions severely impact the activities of daily living (ADLs) and decrease the level of independency in old age. Often, patients wait for years to get approvals for their reconstructive surgeries like- Knee Replacement, Hip Replacement and Spinal decompression surgery. They have to struggle hard during this wait period to get their day to day activities done.
Physiotherapy potentially helps such individuals to manage their pain and disability. In conjunction with therapeutic hands-on treatment and tailored strength training programs, Physiotherapists prescribes elderly the most suitable gait aid to improve walking and by reducing the risk of falls. Therefore, with pre and post-operative physiotherapy there are increased chances to gain a better recovery.
Physiotherapy for Older Adults
My Physio My Health
Trust our team of physiotherapists to help you recover faster and improve your quality of life.