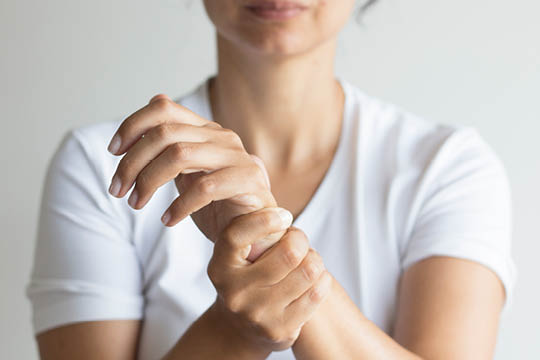 What is a repetitive strain injury?
A repetitive strain injury, also known as an overuse injury, is an injury that can occur in muscles, tendons, ligaments, or nerves caused by repetitive motions over a long period of time. Repetitive strain injuries are most commonly caused by daily repetitive activities, including using a mouse, typing, grasping, use of tools, overhead work, sustained postures and sports training.
Types of repetitive strain injuries
Repetitive strain injuries cover a wide variety of conditions. The most common ones we might see in the clinic include:
Carpal tunnel syndrome
Neck and back pain
Bursitis
Trigger finger
Symptoms:
Symtoms often begin gradually and are initially felt intermittently, and become more constant and intense over time if early treatment is not seeked. Due to the wide variety of repetitive strain injuries, symptoms may vary lots between patient to patient. Symtoms may include (but not be limited to):
Pain, ranging from mild to severe, aching or sharp
Tenderness
Swelling
Burning
Tingling or numbness
Throbbing
Weakness
Stiffness
Prognosis:
Prognosis of repetitive strain injuries varies greatly due to the variety of possible conditions. If treatment is sought out early when symptoms initially begin, the condition may be effectively resolved in 3-4 weeks. However, if these injuries are left too long, which is often the case for patients presenting with these types of injuries, treatment may take as long as 2-3 months, and in some rare cases even longer.
Treatment (How can a physiotherapist help me?):
There are a number of treatment options that will be available to you depending on the type and length of your repetitive strain injury. In order to determine which treatment(s) would be suitable for you, a physiotherapist would first have to assess the type, stage, and severity of your injury. The types of treatments we may provide to you and how they can help may include:
Massage – if you have any tight, irritated or sensitive musclular tissue as part of your presentation, massage can help to reduce this irritation, improve movement quality and increase muscular activity
Mobilisation and manipulation – if you have any stiffness in joints (such as in your neck and back due to sustained postures), mobilisation and manipulation of these stiff joints can aid in reducing stiffness and tension, reducing pain and improving range
Immobilisation – in some cases taping or bracing may be prescribed to immobilise a joint that is repetitively being strained or overused, especially if the aggravating task is part of your job you are unable to avoid or modify
Home-exercise programs – depending on your needs, tailored exercises may be prescribed to aid in reducing stiffness, stretches for tight muscles, or strengthening exercises for areas that lack the strength or endurance to keep up daily tasks
Education – whether it be helping you to understand your condition, task modification, altering resting or sleeping positions, advice regarding heat and/or ice, or temporary cesation of the aggravating activity, education is one of the most important and often forgotten forms of treatment we provide